Product Description
The medical protective face mask is suitable for the protection of medical staff and relevant staff against the respiratory tract infectious diseases transmitted by air. It is a kind of close self-priming filter type medical protective equipment with high protection level, especially suitable for wearing when contacting the patients with respiratory tract infectious diseases transmitted by air or near-range droplets in the diagnosis and treatment activities. It can filter particles in the air, block droplets of droplets, blood, body fluids, secretions, etc., and belongs to disposable products. Medical protective face masks can prevent most pathogens such as bacteria and viruses. Who recommends that medical personnel use protective face masks against particles to prevent virus infection in the air of hospitals.
Details:
packing :50pieces /box
New material PP non-woven fabric, the fabric is clear, soft, breathable and comfortable.
Three fold design, face breathing space makes breathing easier

Plastic nose strip, aluminum-plastic nose strip, easy to shape, more suitable for face

Face Mask Features:
1.Three layers of protection, effective filtration.
Multi layer composite structure, layer by layer protection, filtering harmful, effectively block and filter out all kinds of air pollutants, protect healthy breathing.

2.Skin friendly, breathable, filtering, firm, fit and safe
Product Face Mask Display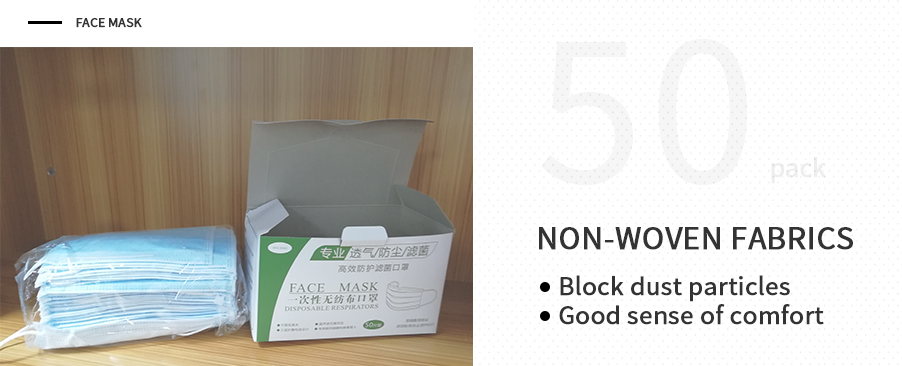 Face Mask Questions:

1.How long does the face mask last?
When the face mask is damaged, dirty or the respiratory resistance is obviously increased, we need to replace it. For personal hygiene reasons, we recommend replacing at least once a week.
2.Is the face mask washable?
Professional particle respirators cannot be washed and disinfected, otherwise the filter material and the structure of the respirator will be damaged
3.The face mask has peculiar smell?
The face mask itself has no smell. The smell of the face mask is the smell of disinfection at the factory. If it is sensitive, it can be removed by airing before use.