Product Description
Dielectric Coating for Lithium Battery Powered Car

Traditional automobile engines emit a large amount of exhaust gas during operation, which leads to serious air pollution in the city. As people pay more and more attention to the environment, developing electric vehicles and adopting clean energy have become the development direction of urban transportation systems. Electric vehicles mostly use lithium battery devices to provide power to the car. In order to meet the mileage and reduce the charging frequency, each electric vehicle needs to install a plurality of lithium battery boxes, and each lithium battery box is arranged with a plurality of lithium battery modules. Each lithium battery module is formed by stacking multiple lithium battery cells in a neat manner. During the process of the automobile, each lithium battery needs to dissipate heat, and the heat is accumulated by a single one, which affects the service life of the lithium battery to a certain extent, if the lithium battery The temperature exceeds 170 °C, and it is prone to spontaneous combustion, which causes safety accidents. Therefore, it prolongs battery life, reduces cost and improves thermal safety. The lithium battery configuration cooling system with high efficiency, environmental protection, energy saving and safety has attracted much attention from the industry.
Fluorocarbon Cooling medium series are Perfluorinated liquid substances, which
have high dielectric constant. It Cooling of the heat-generating of the air conditioning.
Ideal chemical inertness, this can be widely used in various temperature control heat dissipation occasions.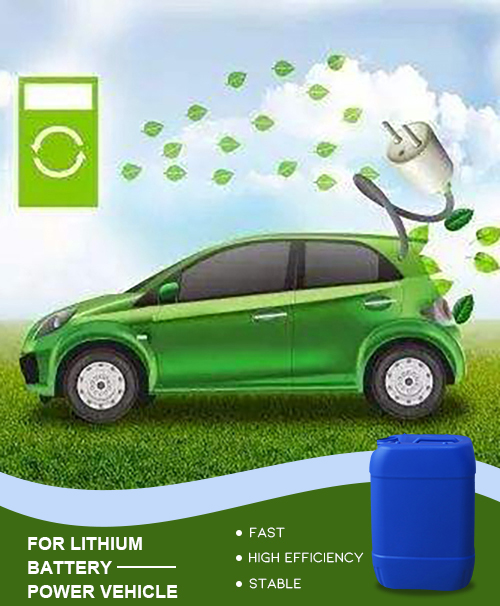 The characteristic of the dielectric coating:
*Refrigerant For Lithium Battery Powered Car ideal Fluorine refrigerant chemical inertia and can be widely used in various temperature-controlled heat dissipation occasions;
* The Fluorocarbon cooling medium low boiling point is a very moderate one. There is evaporation in the course of work, which take heat away through the heat of evaporation, thus it ensuring the heating parts can work well and stably;
*Cooler Refrigerant is Non-dangerous goods, non-flammable and non-explosive, no fire point and flash point Fluorocarbon Refrigerant;
* Liquid Fluorocarbon Refrigerant good electrical insulation Fluorocarbon Refrigerant, extremely high breakdown voltage above 40KV;
* The dielectric constant below 2 doesn`t make data lost in data center applications ;
*The fluorinated cleaning solvent is Good fluidity, this liquid chemical lower viscosity than clear water; Can flow well and dissipate heat in the temperature control system;
* Fluorocarbon Cooling Medium is Nontoxic, harmless, non-irritating;
*Eco Friendly Refrigerants environmentally friendly, have ODP value of 0 and extremely low GWP value
The physicochemical parameter of the products:
| | | | |
| --- | --- | --- | --- |
| Parameter | TUWF-47 | TUWF-110 | TUWF-160 |
| dielectric constant | 1.89 | 1.96 | 3.82 |
| dielectric strength | 55KV | 52KV | 40KV |
| surface tension | 12.2mN/m | 12.7mN/m | 1.154mN/m |
| boiling point | 47°C | 110°©C | 165°C |
| density | 1.62g/ml | 1.83g/ml | 1.63g/ml |
| saturated water content | 40ppm | 50ppm | 160ppm |
| critical temperature | 205°C | -- | -- |
| PH value | 7 | 7 | 7 |
| flash point | No | No | No |
| fire point | No | No | No |
| ODP | 0 | 0 | 0 |
| GWP | 7 | low | low |
| specific heat | 1.26 J/g°C | 1.41J/g°C | 1.35 J/g°C |
| heat of vaporization | 121.7 J/g°C | 136J/g°C | -- |
| viscosity | 0.55 mPa.s | 0.87 mPa.s | 1.24mPa.S |
| inhalation toxicity | low toxicity | low toxicity | low toxicity |
Product use:
This series of Perfluorinated Liquid For Car are not only widely used in a variety of temperature-controlled heat
dissipation system, especially suitable for every link of the semiconductor manufacturing; but
also extensively applied to the immersion cooling for computer server system and other cooling
and heat dissipation, such as wind–driven generator and the inside the generator set, the
immersion cooling medium for high-voltage transformer, the cooling system for electric vehicle
battery and Phased Array Radar etc.
Product packaging:
This series of products are packed with 25kg/barrel, or for customer customization.
Product storage and transportation:
This series of products are easily store and transport.