Product Description
Good Optical Performance for Tempered Protective Film
AF is a kind of fluorocarbon coating , which prepared with the specially structured fluorosilicon
Resin. Anti fingerprint coating has a good effect on non-hydrophilic and non-lipophilic. Compared with conventional
Fluorosilane, the abrasion resistance and smoothness have been greatly improved.anti fingerprint coating for glassis mainly
used in surface anti-fingerprint treatment, such as mobile phone glass cover, glass protective
tape, Electronic Display Screen, optical lens and metal and so on (The surface can achieve the
good effect of anti-water, anti-stain and anti-fingerprint, like water on the lotus leaf), especially for anti-fingerprint solution treatment which is fit for high alumina silicon glass.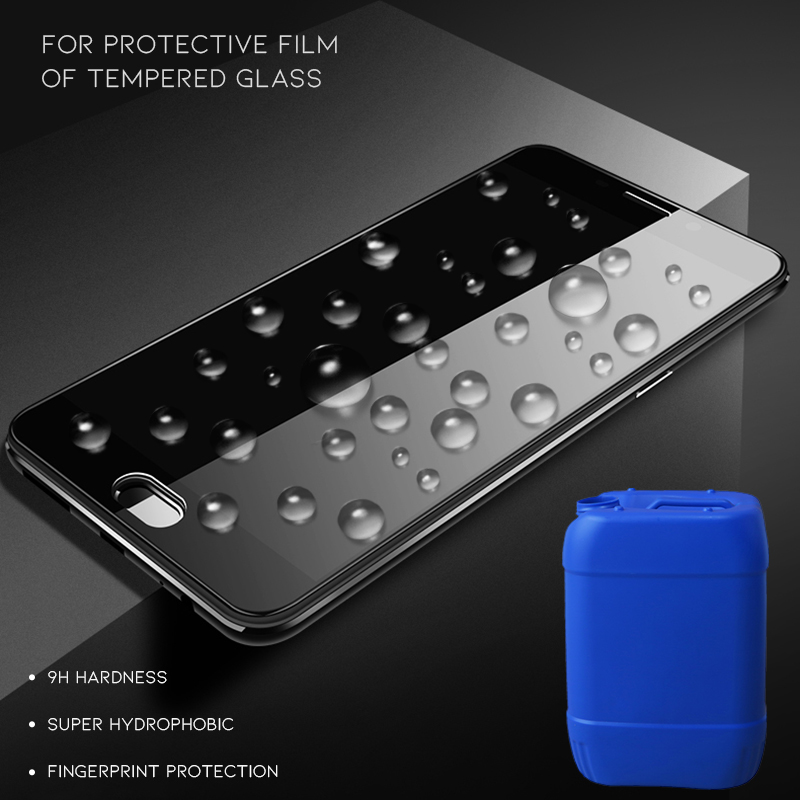 [Product specification]
Appearance: Colorless or yellowish transparent liquid
[Nano Coating For Tempered Protective Film features: ]
1) AF coating glass Does not change the original texture;
2) Professional Cleaning Solutions has superior adhesive force and forms complete molecular structure on the surface;
3) Wear Resistant Coatings excellent optical property, transparency and low viscosity;
4) Anti Fingerprint Solution extremely low surface tension and good non-hydrophilic and non-lipophilic effect;
5) Excellent resistance to weather and chemicals ;
6) Anti Fingerprint Coating wear resistant coatings Excellent abrasion resistance;
7) Anti Fingerprint Coating Spray good and durable characteristics to anti-stain and chemicals;
8) Nano Coating For Tempered Protective Film lower dynamic friction coefficient, high quality hand feeling.
[Performance parameter reference]
Item

Parameter

WCA

113-117

Solution contact angle

(n – hexadecane)

72

Angle of slide

<10°

Dynamic friction coefficient

<0.03

Abrasive resistance

After back and forth friction for 3000 times( bear the weight of 1kg, 0000# steel wool, contact area of 10mmx10mm), WCA is more than 105°

Thickness of coating

12-20nm

Hardness of coating(on the glass )

Min above 6H
[Application methods ]
1. Preparation of the anti-fingerprint solution: can be used after it is diluted with the
appropriate solvent , the dilution ratio is suggested as 0.1~1% (ratio of mass) , the
recommended diluents(solvent) include:
² HFE-7200, HFE-7100 of 3M etc.;
² Hydrofluoroether series of SICONG CHEMICAL: F-8601.F-8602.F-8603.F-8608.F-8615 etc.
² Solvay Solexis® HT-110;
² Perfluorinated alkanes, such as perfluorohexane, Perfluoroheptane, Perfluorooctane and so on
The solution, from this product (F-1091G), which diluted with diluent as 0.1~1% (ratio of mass) , is prepared in reserve. The prepared solution should be well sealed and avoid prolonged contact with air and prevent moisture and stored at low temperature. Besides, the solution prepared should be used ASAP.
2. Usage:
1 The base material need to be treated with ultrasonic or plasma machine, which make the surface clean and dry, and there are no contamination, such as floating dust, ash deposits, grease etc.
2 When using the diluent of this product (F-1091G), need to treat the base material surface adopting coating method, spraying method or soaking method, and give enough curing time(Dry at room temperature for more than 10 hours to cure), or after a few minutes` standing at room temperature, to 120-150 ° C, cure for 30 min with oven; or confirm the best curing plan by yourself according to the enterprise. Or apply the original solution to the base material surface by PVD coating.
3 After the base material is cured, use ultrasonic to clean off the excess anti-fingerprint solution or impurities, or wipe off the excess product by using dustless cloth.
[Hazard category]
Irritation on eyes and skin
[Packing specification]
50g
[ Transportation and storage]
Avoid collision and squeezing during transportation, No exposure to the sunlight; transported as common dangerous goods.
Seal and store in a cool, dry and ventilated place, do moisture-proof and waterproof, Keep away from fire and heat source. Need to moistureproof!
[Notice]
1. Wear protective gloves and glasses when using, In case of contact with eyes, wash immediately with plenty of running water and see a doctor;
2. Please use it in a well-ventilated environment.